R&D Pipeline: balanced with focus
Research and development programmes continue to progress year by year with a strong focus in four key areas: respiratory, neonatology, rare disease and special care.

RESPIRATORY AND NEONATOLOGY
Respiratory is a core area of R&D expertise, which has delivered significant value for the company and continues to expand to meet areas of unmet medical need in asthma, chronic obstructive pulmonary disease (COPD) and other respiratory diseases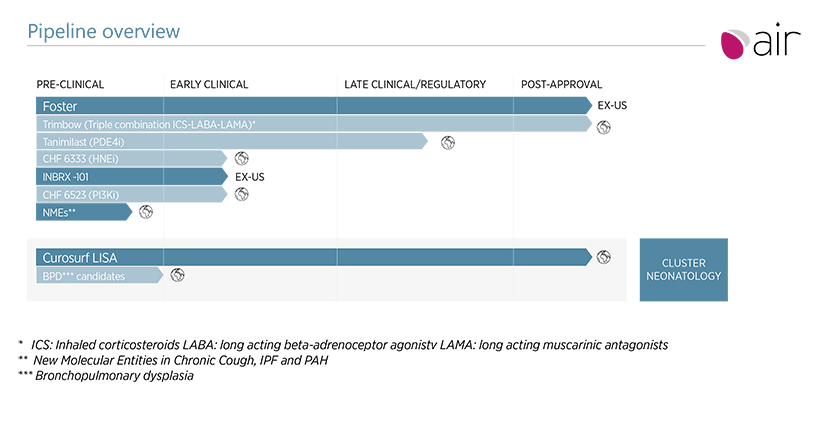 Foster is a key revenue driver for the future of the company, but it also remains a highly significant element of R&D activity as we roll out an important life cycle management program.
There is a substantial commitment to a very attractive therapeutic opportunity with our Triple programme. Our product candidate, now approved in Europe and other key markets, contains three active ingredients in a single inhaler that will ensure effective anti-inflammatory therapy combined with maximum bronchodilation throughout the entire respiratory tree.
The exciting pipeline of new molecules continues to show significant promise. These programmes include novel anti-inflammatory,bronchodilator, anti-fibrotic and othersmolecules.
Our respiratory pipeline of novel drug candidates is leveraged by a proprietary drug delivery platform of formulation and inhaler device technologies, wherein the company is also now committed to a substantial investment to develop a novel propellant for our pressurized inhalers with low global warming potential.
Through the clinical success of Curosurf in treating neonatal respiratory distress syndrome, Chiesi has established an impressive platform in neonatology. In this area of high unmet medical need R&D programmes include novel and less-invasive methods for the targeted delivery of Curosurf to the lung of the infant.With earlier stage programs targeted another devastating respiratory disease of the new born: notably bronchopulmonary dysplasia.
As we expand our pipeline beyond these ground-breaking respiratory-focused products, new programmes have been developed for other neonatal conditions. For example, we are advancing a program for a novel therapeutic for the treatment of neonatal opioid withdrawal syndrome (NOWS). Moreover, there are currently no effective approved pharmacological therapeutics for neonatal brain injury: a relatively common condition associated with significant levels of morbidity and mortality in newborns.

Chiesi R&D has an established expertise and track record of bringing biological and other drugs to market for rare diseases which often are without approved treatment options despite the very high unmet medical need. The pipeline has focused on rare lysosomal storage disorders and the development and successful registration of targeted enzyme replacement therapies. Lamzede for the treatment of alpha mannosidosis is approved in selected key markets, whilst a novel enzyme replacement therapy for Fabry Disease is in advanced development. Other assets are being progressed in the fields of haematology (notably deferiprone) and in ophthalmology (notably idebenone).


The primary focus in special care R&D is in the cardiovascular field with life cycle management of the approved products Kengreal and Cleviprex, whilst the anti-thrombotic candidate code named CUSA081 is now in late phase development for clearance of occluded catheters.