Environment


The ecological balance of the planet is something which is close to our hearts and we are committed to adopting a responsible consumption and production model, so as to reduce impact on the environment and conserve resources for future generations. We take great care in our work to continuously improve our environmental performance and reduce our emissions and exposure to chemical substances to the lowest possible levels. Moreover, we encourage our suppliers to operate responsibly by exchanging good practices and by monitoring their activities.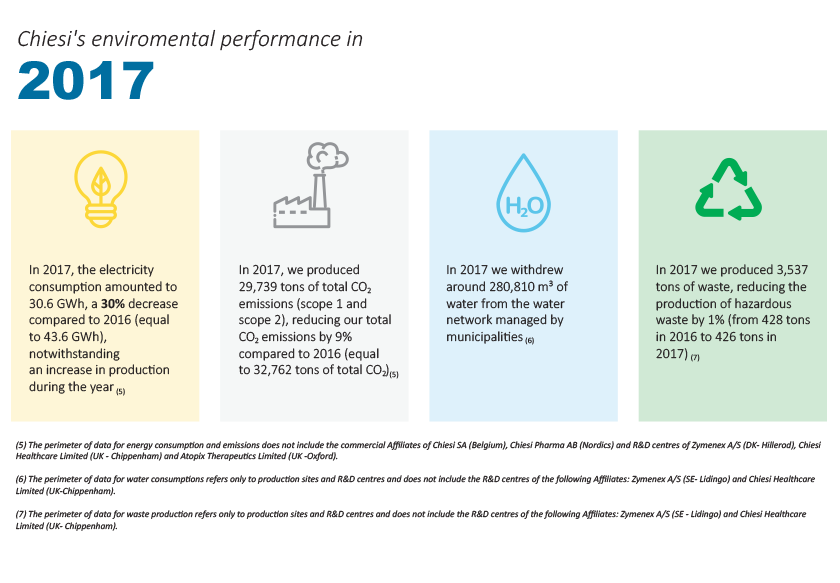 The global growth of our company has also made it necessary to pay greater attention to the health and safety of our people. This is why providing a healthy and safe working environment is another fundamental principle of Chiesi's approach. In 2016, we began implementing the company HSE Guidelines (health, safety and environment) at all of our affiliates worldwide. These guidelines concern all of our sites: production plants, research and development centres, sales and logistics facilities. In the same way we also intend to extend our environmental and safety actions within the company's strategic plan to all our affiliates.Furthermore, our production sites Chiesi France and Chiesi Brazil have introduced a process of certification for their environmental and safety management systems to comply with the OHSAS 18001 and ISO 14001 standards.
At Chiesi, environmental sustainability involves a series of concrete actions, including:
analysing our environmental impact according to the Life Cycle Perspective model, which involves monitoring the entire lifecycle of our products (Research and Development, production, distribution, use and final disposal of the product);
we have carried out a Carbon Footprint Analysis for two of our main respiratory products, and intend to extend this to the entire production process;
we have implemented the Green PC project with the aim of reducing computer energy consumption, using a software package which will enable us to reduce levels by 170 kg of CO2;
we have set up sustainability mobility projects, such as the JOJOB car-sharing programme and the Green Program, a programme aimed at reducing company car CO2emissions by 9% by the end of 2019.
To find out more about Chiesi's commitment to the environment click here.